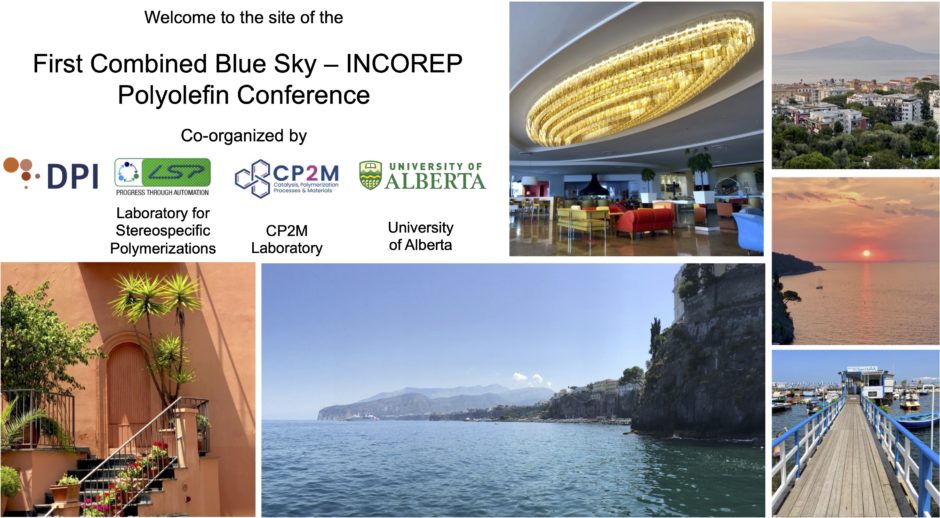 Polyolefin materials are facing the challenges of sustainability and circularity in a turbulent world, and the need for innovation is pervading – again! – a field that was just about to experience maturity.
Like in most areas of chemistry, traditional categorizations have lost significance and the approach to polyolefin research and development has become increasingly multi-disciplinary, tendentially holistic.
In view of the above, DPI asked the organizers of two most successful polyolefin conferences held under its auspices, namely the Blue Sky Conference on Catalytic Olefin Polymerization and the International Conference on the Reaction Engineering of Polyolefins (INCOREP), to join forces and organize a forum where chemists, chemical engineers and material scientists can meet and discuss the various aspects of the field without borders.
The first BlueSky/Incorep Polyolefin Conference will be held on 12-16 June 2023 in Sorrento (Italy), at the Hilton Sorrento Palace Conference Center. The scientific program from Monday June 12 until Friday June 16 will focus on the latest achievements in molecular and heterogeneous olefin polymerization catalysis (covering catalyst design, precatalyst activation and speciation, molecular kinetics, and polymer microstructure and architecture), as well as progress in reactor and process design for various technologies (including highly innovative and/or unconventional ones). The conference will also cover other important topics like High Throughput Experimentation, advanced fast analytics, big data generation and Artificial Intelligence (AI) aided modelling.